Five minutes with Carryology! I've been answering some questions for this cool site about better ways to carry.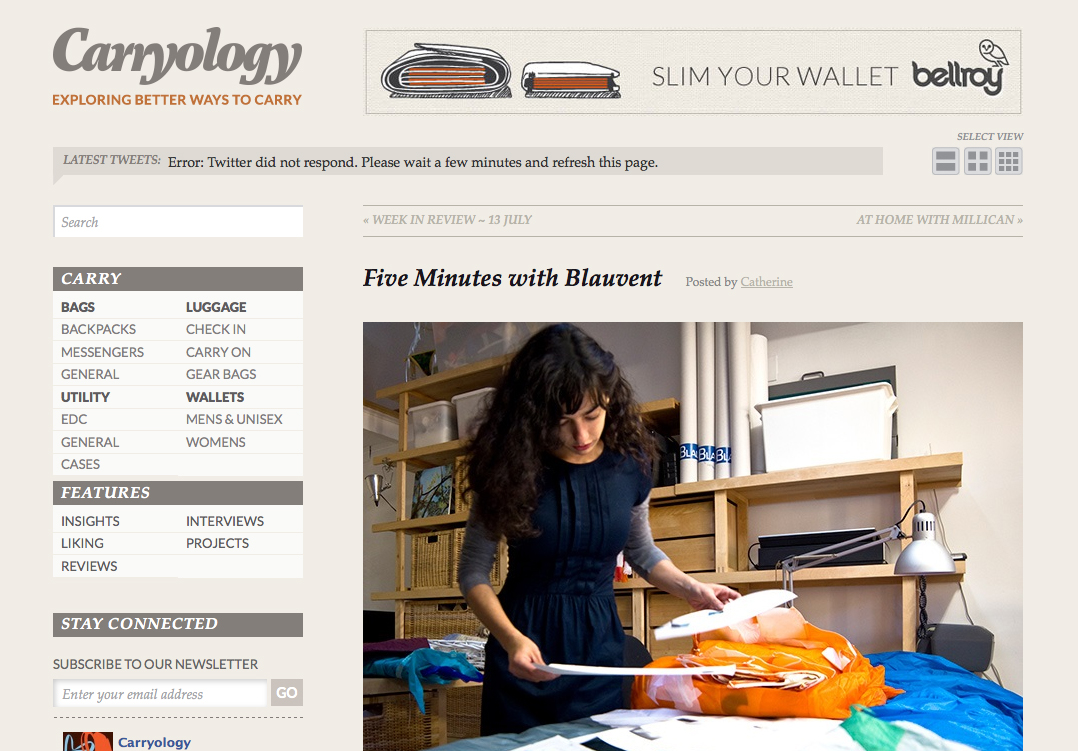 1 – What key insights drive your stuff?
Agility, freshness and imagination, a sense of beauty and a love for nature.
Our project is respectful with people and the environment. We recycle paragliders and we make our bags out of them. Each bag is unique as each pattern is adapted to the nicest section of the paraglider. They are all individually handmade and produced in the region of Alicante, Spain.
So far our main clients are people into paragliding. However, Blauvent's collection adapts itself perfectly into a fashion environment, since it is carefully designed, has a strong concept and implies a lot of research. At the same time it is versatile enough to fit into an urban, cosmopolitan style, as well as in sport, leisure and outdoor activities.
2 – Who else is doing rad things in the world of carry and why do you think they're important?
I quite like what And Wander does, essentially they work with creativity. As an international well-established brand, and with regard to the quality of the products, I love Yoshida Porter. I keep an eye on brands such as GoLite, Granite Gear, Arc'teryx…and other outdoor ones. I enjoy seeing how they keep on developing special details and apply technical solutions into their products to make the user's experience more satisfying.
3 – Are there any things other brands do that you think are great or could be improved?
There are loads of great brands and products, but still the percentage of interesting things is very tiny. The market is full of plain products, opportunistic brands, fashion tendencies and lack of poetry.
4 – What's next for you guys?
Take the marketing seriously and arrive to people. Make a big effort into the marketing side so that Blauvent can get a wider audience.
5 – What do you carry daily and how?
I normally carry a "Saco Backpack" which is very useful as a 24h bag. A "Draped Bag" to go to the gym. A "Companion Backpack" when I go hiking and a "Bunny Tote" to go to the beach.
All my bags are filled with utility pockets…"Dry Sac S" for the smartphone and headphones, a "Mini Wallet" for the money and stuff, a "Dry Sac M" for an extra sweater inside, a "Dry Sac L" for the camera and lenses. An "Inner Pocket" for my cosmetics, a "Sac Roulé" for the toothpaste and brush. And a "Pen Pouch" for my nibs and pencil. I carry quite a lot of weight and all sorts of stuff with me most of the time.
Beside my desk at the studio there is always a "Docs Wallet" to keep safe my notebook, cards, and important documents.
Check the Five Minutes with Blauvent here.